Lynman Bacolor
Lynman Bacolor is a medical practitioner whose passion for music preceded his choice of the medical profession. He has a degree in Medical Technology and Doctor of Medicine from the Manila Central University. He ranked no. 9 in the graduating class for medicine and passed the Physician Licensure Examination given in August 2000. He also completed a vocational computer technician course in 1995. He has been practicing medicine in Pampanga since 2000. He was designated as Medical Officer at the Tan Tock Seng Hospital in Singapore in 2003 and was a recipient of the Courage Fund Award during the SARS Outbreak. He continues to work with government executives and private medical suppliers in providing free and affordable health care to communities in Pampanga. He has given motivational lectures to afflicted patients in order to enhance their cooperation with medical treatments. Lynman was a college band member and leader from 1992 to 1998. His endeavor to become a singer-songwriter started in 2000. He has a deep interest in the use of the latest software as tools in songwriting. He has been an active member of KATHA (Organization of Filipino Composers) since 2005. At present, he is Access 2 MYusik's General Manager for Metro Manila and Mindanao.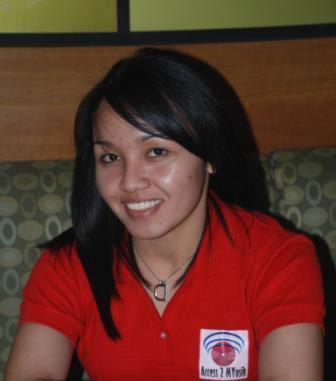 Debbie Nicodemus
Debbie is a young businesswoman determined to make a lasting mark in the music industry. Her musical inclination is but one of the many fields she's into, but she claims that it is indeed in music where she finds unparalleled satisfaction. According to her, music is a companion that never fails, never complains, and never asks for anything back. She believes that every lyric with its corresponding note is in itself a story, and that the purpose of any song other than expressing itself is to affect the listening public; hence, a matter of connection from where everything else follows. The influence of Classical, Broadway and Popular Ballads are highly evident in her simple yet rarely predictable songwriting style. At the young age of 4, she learned how to play the piano and took formal voice and stage performance lessons in 2005. She does music production, choral conducting and arrangement, and also gives piano and vocal workshops to kids from time to time. Debbie graduated with a Bachelor of Science in Business Administration, Major in Business Management from De La Salle University-Dasmariņas, Cavite in 2005 at the top of her class. She was a Dean's Lister and won several academic and non-academic contests in college. At present, she is Access 2 Myusik's General Manager for South Luzon and Visayas and at the same time Assistant Operations Manager of a manufacturing firm. In spite of her business obligations, she manages to hold crucial positions in socio-civic and religious organizations in her hometown.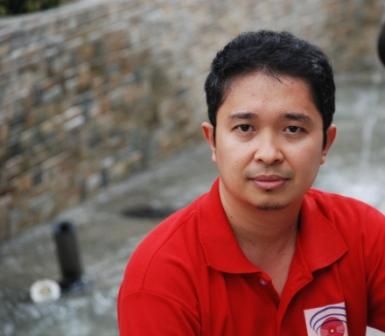 Dennis Montemayor Lalata
Dennis is relatively a late bloomer in songwriting having started writing songs only in the year 2000. He writes in the pop, gospel, inspirational, rock and adult contemporary genres having been influenced by artists and songwriters like The Carpenters, Apo Hiking Society, Jonathan Larson of RENT fame, George Canseco, Louie Ocampo, Gary Granada, Boublil and Schonberg of Les Miserables fame, and Elton John. Dennis does not use any musical instrument when he writes songs. He was a member of choirs from elementary school to college and offices/organizations where he worked. He has been a member of KATHA since 2000. He is a winner of the 2005 Bayan Umawit Songwriting Contest organized by the Bukaspalad Music Ministry. His winning song "A Time for Everything" is included in the inspirational disc of Bukaspalad's "Hindi Kita Malilimutan" album released in 2007. Dennis earned the degree of Bachelor of Arts in Communication, Major in Journalism, Cum Laude in 1987 from the University of the Philippines - Diliman. He has been involved in executive and legislative work, social marketing, social research and legislative advocacy throughout his professional career. At present, he is a consultant for various projects in the government and non-government sectors in the fields of judicial reform and other development issues. He is also Access 2 MYusik's General Manager for North Luzon and Other Countries. Together with his co-founding partners in Access 2 MYusik, he would like to help develop aspiring Filipino songwriters and artists gain access to the commercial music market in the Philippines and beyond.